MY MALL Limassol Кипр
MY MALL Limassol

Opened 2009
Exterior View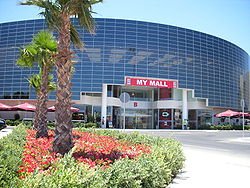 Website http://www. mymall. com. cy
MY MALL Limassol is the newest addition in the architecture of Cyprus. It is located at Zakaki, a small town just outside Limassol city. At this moment it is the biggest -in size- mall in Cyprus.
Facts, Figures and Facilities
This mall hosts more than 150 retail stores that represent hundreds of international brands and a large selection of clothes, shoes, jewellery, cosmetics, bags & accessories, gifts, house items, spectacles, games, electronic equipment, books, music and anything else you can imagine. Currnet tenants include: Marks&Spencers,Public, Monsoon, Accessorize, Mango and expensive looking boutique style shops.
An ice skating rink
(a size of 430 sq.m) can be located at the lower level of the mall that is open daily from 11am to 11pm.
It costs 10 EUR per hour.
A food court is found on the first floor of the mall which at present has TGI Fridays restaurant, Sigma Bakeries and a selection of fast food takeaways including Bamboo, Burger King, Taco Bell, Almyro Glyko, Panta's Chicken, Ocean Basket,Haagen Dazs, Cinnabon, Zumita and Gyros of the World with more coming soon. There is a special sealed off glass smoking area within the Food Hall and plenty of bright, spacious, colorful seating in the middle of the Hall. To Relax and enjoy some time out they have added Costa Coffee, Coffee Beanery or Cubano Lounge.
Manager's Confession
The manager of the mall Mr. Yoram Kerdem promised that a new era begins for the entertainment of locals, as well as for tourists visiting the island.
A variety of events and happenings, themes -latest one being Art Boulevard for Fall 09 - and performances occur frequently in an effort to make things more entertaining and to create a good feeling for those visiting.
List of shops in My Mall
My Mall ground floor

My Mall first floor

My Mall ice rink level
The mall's site http://www. mymall. com. cy
Transportation to My Mall
A convenient way to get there is the shuttle bus that the Mall offers to and from the major hotels in Limassol. A shuttle bus schedule can be found at the mall's site here [7], or you can simply drive there and park at the Mall's parking lot that fits 1600 cars.
Shuttle Bus

We have arranged a convenient shuttle bus service to MY MALL from all coastal hotels in Limassol.

| | | | | | | |
| --- | --- | --- | --- | --- | --- | --- |
| Shuttle # 2 | | Shuttle # 2 | | Shuttle # 2 | | |
| To Mall | | To Mall | | To Mall | | Monday, Tuesday, Thursday, Friday, Saturday |
| | | | | | | |
| 10:00 | | 12:30 | | 15:00 | | Le Meridien Spa & Resort |
| | | | | | | |
| 10:02 | | 12:32 | | 15:02 | | St. Raphael Hotel |
| | | | | | | |
| 10:05 | | 12:35 | | 15:05 | | Elias Beach Hotel |
| | | | | | | |
| 10:07 | | 12:37 | | 15:07 | | Atlantica Bay Hotel |
| | | | | | | |
| 10:10 | | 12:40 | | 15:10 | | Amathus Beach Hotel |
| | | | | | | |
| 10:10 | | 12:40 | | 15:10 | | Mediterranean Beach Hotel & Four Seasons |
| | | | | | | |
| 10:15 | | 12:45 | | 15:15 | | Arsinoe Hotel |
| | | | | | | |
| 10:15 | | 12:45 | | 15:15 | | Poseidonia Hotel |
| | | | | | | |
| 10:20 | | 12:50 | | 15:20 | | Londa & Apollonia Hotel |
| | | | | | | |
| 10:25 | | 12:55 | | 15:25 | | Miramare-Ermitage Hotel |
| | | | | | | |
| 10:30 | | 13:00 | | 15:30 | | Park Beach Hotel |
| | | | | | | |
| 10:35 | | 13:05 | | 15:35 | | Holiday Inn Hotel |
| | | | | | | |
| 10:40 | | 13:10 | | 15:40 | | Mistral Hotel |
| | | | | | | |
| 11:00 | | 13:30 | | 16:00 | | MY MALL |
| | | | | | | |
| | | Shuttle # 2 | | Shuttle # 2 | | Wednesday |
| | | To Mall | | To Mall | | |
| | | | | | | |
| | | 10:00 | | 12:30 | | Le Meridien Spa & Resort |
| | | | | | | |
| | | 10:02 | | 12:32 | | St. Raphael Hotel |
| | | | | | | |
| | | 10:05 | | 12:35 | | Elias Beach Hotel |
| | | | | | | |
| | | 10:07 | | 12:37 | | Atlantica Bay Hotel |
| | | | | | | |
| | | 10:10 | | 12:40 | | Amathus Beach Hotel |
| | | | | | | |
| | | 10:10 | | 12:40 | | Mediterranean Beach Hotel & Four Seasons |
| | | | | | | |
| | | 10:15 | | 12:45 | | Arsinoe Hotel |
| | | | | | | |
| | | 10:15 | | 12:45 | | Poseidonia Hotel |
| | | | | | | |
| | | 10:20 | | 12:50 | | Londa & Apollonia Hotel |
| | | | | | | |
| | | 10:25 | | 12:55 | | Miramare-Ermitage Hotel |
| | | | | | | |
| | | 10:30 | | 13:00 | | Park Beach Hotel |
| | | | | | | |
| | | 10:35 | | 13:05 | | Holiday Inn Hotel |
| | | | | | | |
| | | 10:40 | | 13:10 | | Mistral Hotel |
| | | | | | | |
| | | 11:00 | | 13:30 | | MY MALL |
| | | | | | | |
| | | | | Shuttle | | |
| | | | | From Mall | | Monday, Tuesday, Thursday, Friday, Saturday |
| | | | | | | |
| | | | | 11:30 | | MY MALL |
| | | | | | | |
| | | | | 14:00 | | |
| | | | | | | |
| | | | | 16:30 | | |
| | | | | | | |
| | | | | Shuttle | | |
| | | | | From Mall | | Wednesday |
| | | | | | | |
| | | | | 10:30 | | MY MALL |
| | | | | | | |
| | | | | 14:00 | | |